Careers site Indeed.com combed internal data to report on major trends in the tech skills market, finding that "cloud computing and containerization skills are booming."
"Docker, Kubertnetes, and other containerized tech tools allow software engineers to isolate the environment in which an application runs, permitting rapid scalability as user traffic grows," the report said. "Employers increasingly demand these skills."
In "Indeed Tech Skills Explorer: Big Picture Tech Skill Trends," published last month, the careers site identified the cloud computing boom as one of three major key trends, along with JavaScript innovation and specialized skills for Big Data processing. The post includes data through September 2019.
"As noted in an earlier post, Docker was far and away the fastest-growing tech skill in the five years through September 2019," Indeed said. "The rise of Kubernetes is more recent. Kubernetes was the most widely used tool in the list of skills that rose the fastest in the year ending September 2019, ranking ninth."
That referenced other post, from November 2019, said Docker was indeed the fastest-rising tech skill, shooting up more than 40x from September 2014 to September 2019.
Check Out Sportsfeed for Sports News, Reviews & More. Shaurya Loans Cityhawk Fauji Farms City Hawks Sports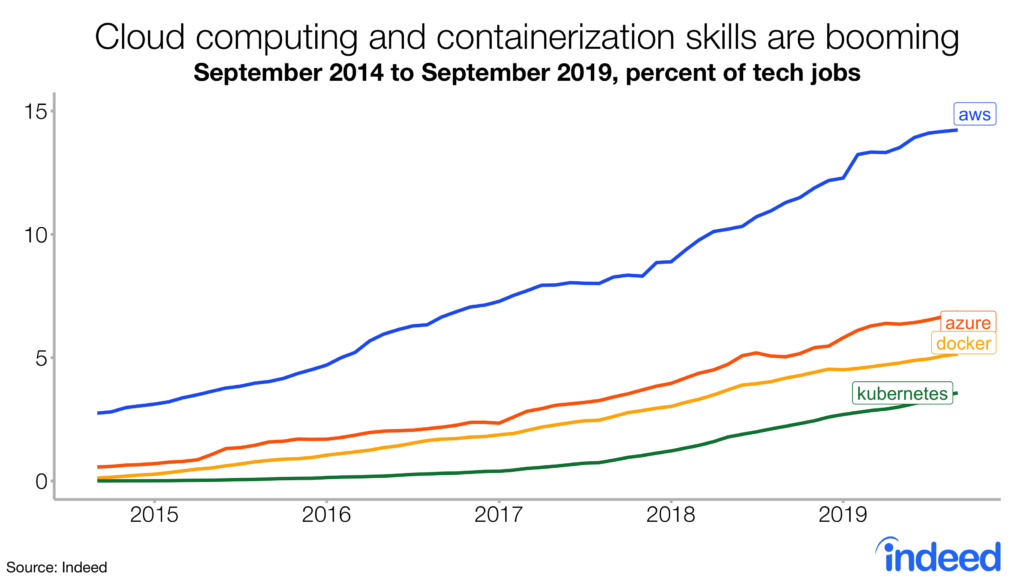 In last month's post, Indeed singled out cloud giant AWS and Microsoft's Azure for special attention in the cloud/container space.
"As with containerization tools, cloud computing products like Amazon Web Service (AWS) and Azure have also skyrocketed. AWS is now the sixth overall tech skill and Azure is 17th. In just a few years, cloud computing has moved from a cutting-edge skillset to a standard and widespread part of the workflow for many tech employees."
Here's what Indeed had to say about the other two major trends highlighted in last month's post:
JavaScript innovation: "So, what are the most popular JavaScript libraries and frameworks now? Which are poised to fade? And which are likely to carve out a niche and still be popular five years from now?

"Angular remains on top as the most common JavaScript library, surpassing jQuery sometime in 2018. jQuery has fallen 30 percent in five years, but Ajax is down even more than 54 percent. React.js has soared over the past five years and shows no sign of letting up. It recently passed jQuery as the second most popular JavaScript library. Node.js has grown steadily in popularity."
Data Science Goes Big: "Big Data processing tools like Redshift, Spark, and Google's machine learning library Tensorflow have soared. Spark's growth is particularly stunning, up more than 10-fold since 2014. As data science becomes a proportionally bigger part of the tech job landscape, programming languages tailored for this discipline, notably Python and the statistical programming language R, grow in popularity too. R more than doubled in the five years through September 2019, growing 6 percent in the past year alone. Python is up 123 percent over the five-year period and 12 percent in the past year."
In conclusion, Indeed said: "These three big-picture tech skill trends — rapid innovation in web development; surging demand for cloud computing and containerization skills; and data science software tools and disciplines designed to capitalize on the explosion of information — represent the leading edge of the always rapidly evolving tech sector."
Here's the report's methodology:
We use a list of over 500 tech skill terms to query the job descriptions of postings on Indeed.com between September 2014 and September 2019. Only US English language postings having one of these tech job titles were considered. One cautionary note: Multiple skills can appear in the same job description and some terms can appear in multiple distinct skills, like "SQL" and "SQL server."